Our Top 5 Resources About COPD
As you may have experienced, there are a wide variety of resources out there about and for COPD. It can be difficult to know where to start, what ones are trustworthy, and which ones are even worth your time. So, we evaluated them for you and picked our top five for this article. Each section explains what the resource is and why we chose it so, you can get a summary before diving into each individual resource.

The COPD action plan breaks down the common symptoms of COPD into three different zones. The green zone is a baseline for a good day, the yellow zone for flare-ups, and finally the red zone for when there is an urgent medical need. Each of these zones also includes helpful steps or actions to take along with making it easy to track what has and hasn't been done. The second page is a COPD management plan. This management plan includes a variety of medical information about an individual that can be used to recount vital medical information to a doctor or medical professional. Furthermore, some of this data pairs well with the action plan on the previous page. Not to mention there is a QR code at the bottom to access additional resources and video
There are a couple of different things that make this resource useful. The first is the documentation of symptoms and medical information on the management plan. After documenting for a week or so, you or a loved one can better judge the different zones in the action plan. Therefore you can be better prepared for a flare-up or medical emergency. Furthermore, the medical information on the management plan is extremely helpful in communicating your symptoms and baselines to medical professionals. Since everyone's experience with COPD is different what may seem like a minor change for some could be big for others. It also makes things easier if the individual with COPD is experiencing a mental haze to have all this documented. Also if multiple different medical professionals (DME, Home Care, PT/OT, etc.) are assisting in care for yourself or a loved one then this assists with clear communication between them. The second benefit of this document is the clear green, yellow, and red system. It can be difficult to differentiate how COPD is affecting someone day to day and to communicate that well. The American Lung Association has made it easier along with action steps to fit the different zones based on how they are feeling. Also, you can personalize each of these steps and actions in accordance with what fits you or your loved ones best. Such as how often to take their inhaler, what medications they may be on, etc.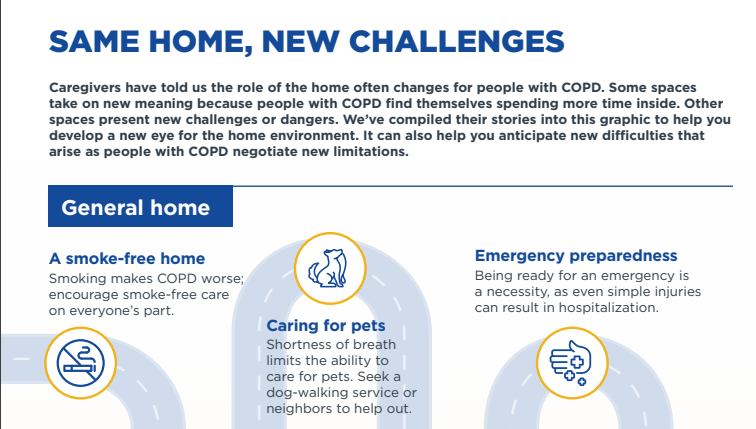 This resource/module is broken down into eight parts to assist with making a home/living space accessible and safe for a loved one with COPD. The first section covers the challenges you or a loved one may experience in the home. This includes some general tips and reminders about how to make the home a bit safer for a loved one with COPD. The next section covers the first steps you should take to move towards a safer home including removing indoor triggers and managing the effects of smoke and radon. The third section then covers how to best manage oxygen supplies if your loved one is on oxygen. Section four covers medication organization and management. Section five moves towards the outdoors which is also continued in section six. Finally sections seven and eight cover specific tips for warm and cold weather since they impact COPD and its symptoms differently.
This is a useful document since a loved one's environment can have a large impact on their condition and treatment. Small changes can seem unimportant but they could prove to be important when it comes to a loved one's health and safety. Removing and managing certain triggers can make it so your loved one has flair-ups less often. Also, the advice on storing/managing medications can be extremely useful because the forgetfulness that can develop from COPD may result in mixed or missed medications. Not to mention the in-depth assistance on oxygen equipment storage and maintenance. Oxygen therapy can not only be ineffective if not done properly but can potentially lead to further damage or infections if not handled correctly. Also, the tips can help prevent the ignition of the gas or tanks since oxygen is flammable.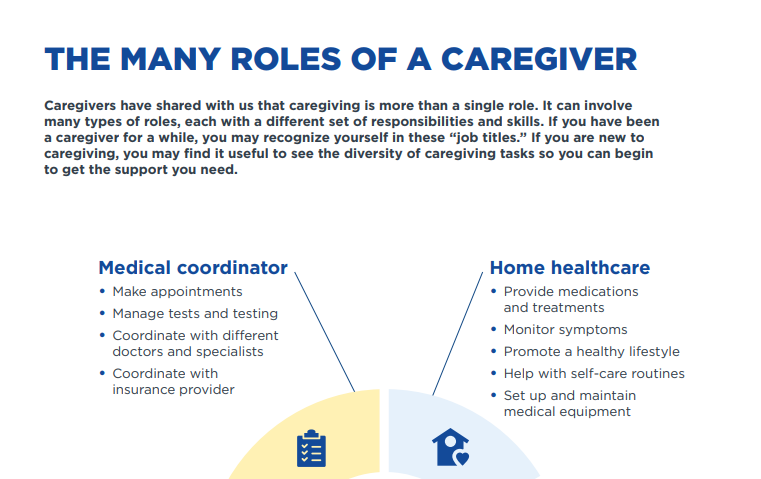 This resource covers the different roles a caregiver of COPD fulfills while caring for a loved one. From guardian to support system to family member, there are many roles you will often try to fill at once. The most important part this resource covers is taking care of your mind and body while doing so. This section includes warning signs of anxiety, depression, and stress. Next, the resource covers some of the different support networks out there and how to find the right one for yourself. Finally, it covers how to build up a care management team to take some of the burden and roles off of yourself. This also includes navigating changing relationships and roles for yourself.
Often caregivers of a loved one neglect their own well being order to care for another. Sometimes they don't realize this until it is too late and suffer from caregiver burnout. It is vital for your own and loved one's health that you take care of yourself. You can't take care of someone properly if you are overwhelmed or stressed out by a situation and the large amount of energy it may require. If you notice yourself being short with a loved one or rushing certain tasks out of frustration, it may be time to take a step back and read over this resource. After following the steps in this resource, you can work to not only take care of your loved one but also build up a support network for yourself.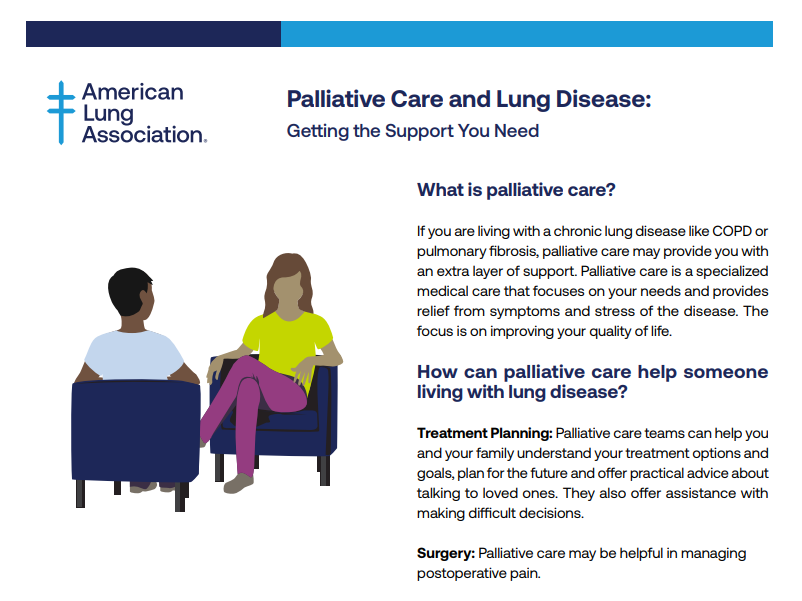 Simply put this is a quick overview of what palliative care is and how it can assist someone with COPD. The document gives advice on why you may want palliative care, how to get it, and how to pay for it. It also has some handy questions that are often asked about Palliative care with their answers.
Palliative care is a term thrown around a lot but is never clearly defined/explained. This resource does so and provides answers to many of the common questions you or a loved one may have when it comes to palliative care.  Palliative care can be a great resource to alleviate stress for both the one with COPD and their caretaker(s).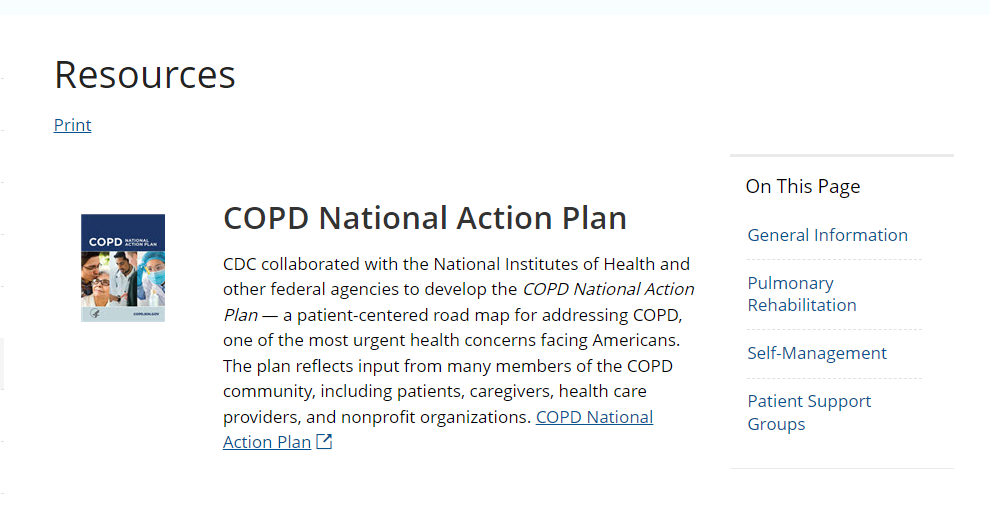 If you're looking for a deep dive into the scientific and medical side of COPD then you will want to look here. The CDC has compiled its reports, articles, and resources all into one page, This includes reports on COPD, COPD treatments, and COPD advocation. The first two resources are ways for you to get involved in the CDC's advocacy of COPD. The page is also broken down into general information, rehabilitation, self-management, and patient support groups.
The CDC is always an excellent and trusted resource for information on diseases, their effects, and their treatments. This information can be extremely useful when caring for a loved one with COPD or talking to a loved one about it. The only downside is it is very text-heavy and full of scientific terms so it's best to take it in bite-sized pieces over time so you can more easily process what you've learned.
In summary, there are a variety of resources out there to assist and educate you. Though these are our top five, that does not mean there are no other great options out there. These resources are meant to be a starting point in your COPD education. If you have additional questions about palliative care specifically we can be a great resource (home care is a type of palliative care).
Hopefully, we have now thoroughly informed you about COPD. Below is a copy of our most recent guide on COPD which includes:
The information above (in a convenient document)
Additional Resources (Community Resources, Helpful Blogs, etc)
And an extra section on what to do when COPD worsens (Not available elsewhere)