Yes, an ischemic stroke can cause dementia, especially if it affects certain areas of the brain that are important for memory and cognitive function.
When a person experiences an ischemic stroke, it means that the blood supply to a part of the brain is blocked, which leads to brain cell death and damage. If the stroke affects the areas of the brain that are responsible for memory and cognitive function, it can cause cognitive impairment and eventually lead to dementia.
In some cases, the cognitive impairment caused by a stroke may be temporary and improve over time, but in other cases, it may be permanent and progress to dementia. The risk of developing dementia after a stroke is higher in older people and those who have had multiple strokes.
It's important to note that not all strokes cause dementia, and not all cases of dementia are caused by strokes. Other factors such as age, genetics, and lifestyle can also contribute to the development of dementia.
Additionally, the risk of developing dementia after a stroke may also depend on the size and location of the stroke. Strokes that affect larger areas of the brain or occur in multiple locations are more likely to cause dementia than smaller or single-location strokes.
The type of dementia that can result from a stroke is called vascular dementia. Vascular dementia is a type of dementia that results from damage to the blood vessels in the brain, which can occur as a result of a stroke or other conditions that affect blood flow to the brain.
The symptoms of vascular dementia can vary depending on the location and severity of the damage to the brain. Some common symptoms include problems with memory, attention, and decision-making, difficulty with planning and organizing, and changes in personality and behavior.
It's important to seek medical attention right away if you or someone you know is experiencing symptoms of a stroke, such as sudden weakness or numbness on one side of the body, difficulty speaking or understanding speech, or sudden vision changes. Early intervention and treatment can help minimize damage to the brain and reduce the risk of developing dementia or other long-term complications.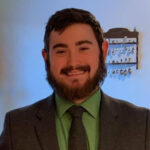 Matthew Laming
Client Relations Specialist at GLHCU. Graduate of Northwood University. General Geek and Nerd Enthusiast.